I rang in the new year Japanese style this year. There was a party with drinking and games and frivolity, hosted by my American neighbor and attended by Japanese, Americans, and even a Mexican, but there was no Dick Clark (or Ryan what his name) and no ball dropping. We didn't even count down from ten. But we knew that 2008 had arrived when the gong sounded and the music began in the temple.
Starting at 11:30 we walked over to Tahara Castle and gathered with other Japanese waiting for midnight by drinking sake, eating dried squid (squid jerky as one friend described it) and warming ourselves by a large bonfire. I saw several of my students there and wished them a Happy New Year in English and then waited my turn in line to throw in a 5 yen piece and say my prayer for a successful 2008. We bowed twice at the waist. Clapped twice, then paused for our prayer. Another bow and we were done and the group behind us began. I was glad we got there early because the line stretched nearly out of the castle by the time we left.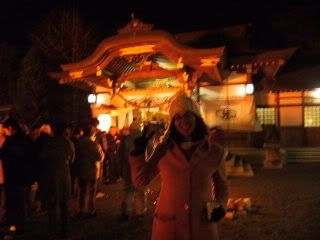 Then it was quickly off to the local karoake joint for two hours of bad singing. Originally the plan was to stay up all night and then drive to the beach to watch the first sunrise of the year, per Japanese tradition, but since more people showed up than anticipated there wasn't enough room in the few cars we had available and so the plan shifted to hiking up Mount Zao. Driving to the beach had sounded good to me, but hiking up a mountain in the dark after staying up all night did not. What can I say I am an old 25. Besides my friends who were staying with me had to get up early to catch their train home, so at three we stumbled home, unrolled our futons, and went to sleep.
I have a feeling that this is going to be a good year. If nothing else, it will certainly be interesting.